Keg Sales & Rentals
If our Pay-Per-Fill program is not the right fit for you today, we can rent or sell you kegs with your brewery branding at competitive rates.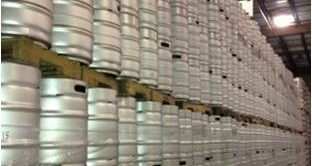 ---
Keg Sales
Whether you're looking for a few kegs or a few thousand kegs, we've got you covered. Our selection of new and used kegs for sale is unmatched and the fact that we can brand them for you in our own Keg Quality Center means you can get kegs quickly.
Services
Embossing
Silk Screening
Bellybands
Debranding / rebranding
Keg Rentals
Why choose a KegCraft rental program?
The MicroStar Advantage:
One of the largest purchasers of kegs in the world = preferred purchasing position and pricing
New kegs in stock, ready to brand with your logo
Own the leading keg branding facility in North America
Own the #1 keg and valve repair and maintenance operation in the U.S.
Flexibility
About our kegs:
Industry standard Sankey D-type valves
European made
Available in ½ bbls, ¼ bbls and sixtels
For pricing, terms and other details, give us a shout and we can build a program to meet your needs.
---
WHY CHOOSE KEG SALES & RENTALS
---
KEGS WHEN YOU NEED THEM
Providing you kegs at a competitive rate coming from a state-of-the-art facility.
QUALITY
Streamlined repair and maintenance activities help keep brewery-branded kegs in the market longer.
WE GROW WITH YOU
If at any point you want to switch to our Pay-Per-Fill program, you can transition from your rental agreement hassle-free.
Client Quotes
Keg Sales & Rentals Testimonials
MicroStar has provided solutions for expanding our cooperage and given us the ability to relieve space in our limited cold storage.
Pat Ware
Co-Founder Arizona Wilderness
Keg Sales & Rentals Testimonials
We're able to free up capital to put back into the brewery.
Will Oliver
Founder Lithology Brewing
Keg Sales & Rentals Testimonials
We've been buying kegs from MicroStar for years and their quality and service levels can't be beat.
Ted Rice
Founder - Marble Brewery